This program is a super fast, hassle-free solution designed to help Real Estate Investors cash out of existing investment properties.
Unique Loan Terms
Diamond
Platinum
Gold
Silver
Jumbo
Payments
Interest Only
Interest Only
Interest Only
Interest Only
Interest Only
Rate – 1st Mortgage
7.95 – 9.95%
8.95 – 10.95%
10.95 – 12.95%
12.95%
TBD
Term (Years)
1 – Year
1 – Year
1 – Year
1 – Year
TBD
Prepay (Years)
None
None
None
None
None
Max LTV
65%
2-4 Unit – Reduce LTV by 5%
65%
65%
N/A
TBD
Max CLTV
75%
75%
75%
75%
TBD
Min. Loan Amount
$75K
$60K
$60K
N/A
$500K
Max Loan Amount
$500K
$500K
$250K
$500K
$2MM
Down Payment
15% of TCC
(Purchase, Rehab & Closing Costs)
Min 10% Down
Min 10% Down
N/A
TBD
Title
Company or Land Trust
Company or Land Trust
Company or Land Trust
Company or Land Trust
Company or Land Trust
Personal Guarantor
Mandatory
Anyone with more than 25% ownership must qualify
Mandatory
Mandatory
Mandatory
Mandatory
Min. Credit Score
600
660 min for NY, NJ, MD, CT, IL, IN
600
600
600
650
Reserves
6 months
6 months
4 months
6 months
Case by case
Interest on Undrawn Funds
None
None
None
None
None
---
FAQs
refinance
Can I refinance my home with your Refinance Loans?
Our refinance hard money loan programs are exclusively designed for Real Estate Investors who want to fix and sell or fix and rent out their investment properties. We also provide low interest, long-term refinance options for Landlords.
We currently do not provide funding to Real Estate Investors who intend to live in the property they are refinancing. We are not able to provide loans for properties which will be used as personal, family or household residences.
How do you approve loans?
We approve loans based on your ability to succeed with your real estate investment project. We look for 3 components in every loan we approve. We call it "BEE" approved by BridgeWell.
BEE stands for:
Benefit: BridgeWell is committed to WIN-WIN business transactions. The first thing we look for is "benefit" to the Real Estate Investor. We only fund loans where we clearly see substantial benefit to the borrower.
Equity: We want our Customers to have solid equity in their investment projects right from the beginning. One of the keys to successful real estate investing is making a great buy on a solid property.
Exit: Successful investment projects typically require a workable exit strategy. This may be a prompt re-sale plan for a "buy-fix-sell" project or conventional refinance (or cash pay-out) plan for "buy & hold" projects. A well-planned, realistic exit strategy is a key component of all successful real estate investment projects.
How fast can you close a loan?
We routinely fund investors in as little as 7 days from start to finish. This can vary depending on the size and type of the investment project.
What is the cost of your loans?
Our loan pricing is fair, comparable to or less than most lenders in our industry. Exact pricing will be quoted up-front after we determine the specific loan program and details of the loan you need. We charge one simple origination fee, which can be financed into the loan or paid at closing (NO junk fees, hidden closing costs, or middleman fees). Once you complete our easy on-line application, a Loan Services Coordinator will call you promptly with a price quote and answer any of your questions.
What is your maximum loan-to-value ("LTV")?
The maximum (combined) loan-to-value can range from 80% of the After Repaired Value ("ARV") of the investment property. The ARV is estimated by averaging recent comparable sales of arms-length transactions in the neighborhood. We typically do not use foreclosures or short sales for comparison, only conventional sales.
What type of properties do you lend on?
We loan on detached residential, non-owner occupied properties (1 to 4 units). We do not currently loan on mobile or manufactured homes, gas stations, strip malls or new construction projects.
Where do you lend?
We lend throughout the state of Florida, Georgia, South Carolina, North Carolina, Virginia, West Virginia, Maryland, Connecticut, Massachusetts, Maine, New York, Ohio, Kentucky, Tennessee, Arkansas, Missouri, Illinois, Indiana, Michigan, Wisconsin, Iowa, Nebraska, Kansas, Oklahoma, Texas, New Mexico, Colorado, Wyoming, Idaho and Washington, although we may also lend in other states.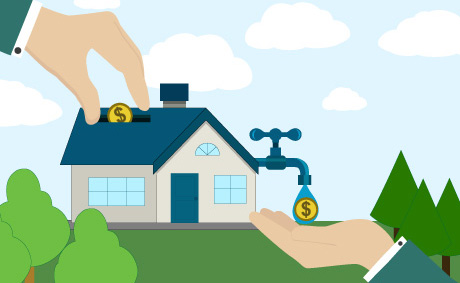 How it works
Free up capital with the equity from an owned investment property to finance it's repairs and then sell it or rent it. This program is a super fast, hassle-free solution designed to help Real Estate Investors cash out of existing investment properties.
Start Application
What Our Clients Say About Our Loan Programs
Experience You Can Trust
BridgeWell Capital LLC is a direct, licensed mortgage lender that provides financial services to real estate investors all over the country, including financing for residential investor flips, financing for rental properties, and cash-out refinances to make it's clients investing endeavors more profitable and efficient.
BridgeWell Capital works with real estate entrepreneurs, realtors, property management companies, brokers and wholesalers by providing a fast and convenient source of investing capital.
NMLS License: #347340