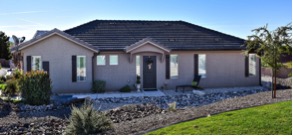 The Find:
On October 28th, BridgeWell Capital received a loan proposal from an investor looking to secure a hard money loan for a 3-bedroom, 2-bath single family home in scenic Washington, Utah. The neighborhood wherein the 1363 sq. ft, rambler-style, investment property is located enjoys convenient access to Interstate 15, and is less than a 10-minute drive from a variety of dining and shopping options, schools, parks, and breathtaking views of the Red Cliffs National Conservation Area.
The Funds:
The 2-year-old investment property was originally listed at $189,900, however the house was appraised at $185,000. The client, not wanting to see a prime rental opportunity in a growing neighborhood slip through their fingers, put a bid on the house in the amount of the appraisal and subsequently closed at that price. Their next call was to BridgeWell Capital to maximize the return on their investment by financing the purchase with BridgeWell's low rate Flip-2-Rent loan. Understanding the client needed funding fast, the professionals at BridgeWell Capital were able to approve the client for $148,000 at a great rate, in under 7 days.
The Flip:
Considering the age of the property, it's no surprise the inspection didn't find anything in need of repair, so there were no subsequent rehab costs. As realtors are fond to say, the house was "move-in ready," and our client had no problem lining up quality tenants to live in this beautiful home. The property that BridgeWell funded is now generating positive cash flow for the client who is taking the profits of the purchase and putting them towards their next real estate investment.