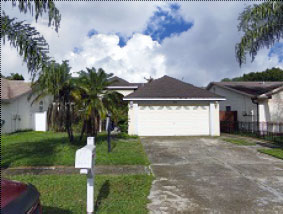 The Find:
On October 28th, BridgeWell Capital received a loan proposal from an experienced investor looking to secure a hard money loan for a 3-bedroom, 2-bath single family home in the greater Tampa metropolitan area. The neighborhood wherein the 1631 sq. ft, contemporary ranch-style investment property enjoys convenient access to Interstate 75, and is located less than a 10-minute drive from a variety of dining and shopping options, schools, parks, and the Pebble Creek Golf Club.
The Fix:
The investment property was originally listed at $145,000 after being foreclosed upon at $122,600. Our client successfully submitted an offer of $138,000 to close the deal. Knowing the property was in good shape but in need of updates and aesthetic care, our client set aside $18,000 of the total $140,200 BridgeWell Fix-2-Flip loan to use as a repair credit line that is paid out in installments as progress points are met. With this particular property, while nothing major was required, the roof did need the cover replaced, the driveway and outside walkways cleaned, new exterior paint, updated appliances and cabinets in the kitchen, flooring cleaned and landscaping completed.
The Flip:
With the property refurbished, the interior refreshed, and a fresh coat of exterior paint, the house was appraised at $187,000, placing it, price-wise, right in the middle of the comps in the area. Properly staged and landscaped, this property was sure to draw interest. After the purchase price, prepaids, closing costs and rehab, our investor made $16,960 on the deal that BridgeWell Capital financed within 2 weeks of the investor's original purchase date.