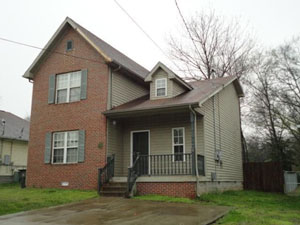 The Find:
On November 19th, BridgeWell Capital received a loan proposal from an investor looking to refinance the existing mortgage on one of their investment properties, and secure a cash lump sum through what is known as a cash-out refinance. By tapping into their home's equity, the client is able to refinance the remaining balance on their original mortgage as well as draw a "cash-out" amount based off the property's appraised value; in this case, a 4-bedroom, 2-bath single-family home located in Nashville, TN. The neighborhood where the property is located is up and coming, with new construction going in, and convenient to downtown and interstates 65 and 24.
The Funds:
The clients were looking to receive at least $60,000 dollars for renovations to the property, with new construction going up nearby, it was important to them that their property look and stay competitive. They wanted to put in as much as possible to keep up with the upward swing the neighborhood was experiencing, so an appraisal was ordered to determine the value of the property. The property was appraised at 130,000 dollars. Taking that into consideration, the professionals at BridgeWell Capital also looked at the clients' credit, experience and cash reserves, and were able to approve them for a $75,000 cash out to put towards renovations/rehab.
The Fix:
With cash in hand, BridgeWell Capital's clients were able to begin renovations that not only increased the overall value of their investment property, but is also earning them a higher monthly return in the form of rental cash flow. Another benefit of the renovations is that the clients were able to do their part in helping rejuvenate an established community that is striving to keep with the times.