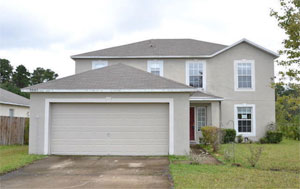 The Find:
On December 12th, BridgeWell Capital received a loan proposal from an investor looking for a private money loan for an investment property in Jacksonville, Florida. The property, a 2-story contemporary lakefront home, has 4 bedrooms and 2 baths. Built in 1986, the investment property is located within minutes of numerous shopping and dining options, and major thoroughfares including Interstate 4 and State Road 434. The investor's plan was to buy it, fix it up, and hold it as a rental property. The client closed on the property at a purchase price of $392,500.
The Fix:
While the property was in a great location and in good overall shape it was in dire need of a makeover. Both central AC units needed to be replaced. The appliances, fixtures and surfaces in the kitchen ceased being top of the line during Reagan's second term and had to be updated. The pool was, and still is, a beautiful custom job replete with an integrated spa, but the pumps and electrical systems are no longer operational and needed to be replaced. The pool area also had, at one time, a beautiful summer kitchen with a built-in BBQ pit, that unfortunately fell into disrepair. All told, the client was looking at $55,000 in rehab fees. That's where BridgeWell Capital came in.
The Funds:
The client had the funds available to cover the down payment and rehab costs, but time was of the essence if he was going to be able to close this deal before someone else could grab it out from under them. The professionals at BridgeWell Capital understand that sometimes you need funding fast, and were able to approve the client for $328,000 and have the funds available just 2 days after closing. The investment property was recently appraised having an ARV of $505,000. After closing costs and prepaids the client saw a 15% return on their investment were they to sell today. As a luxury rental property, with clients in place, the cash flow the house generates more than covers the mortgage and upkeep, getting the clients one step closer to their dreams of financial freedom. That's a dream BridgeWell Capital is committed to seeing all our clients achieve.