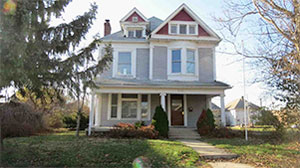 The Find:
On November 4th, BridgeWell Capital received a loan proposal from a BridgeWell Capital repeat investor looking for a hard money loan for an investment property in Indianapolis, Indiana. The property, a 116-year-old Victorian located in the historical Herron-Morton neighborhood, is located within walking distance of restaurants, parks, musical theater, and is a quick 5-minute drive from downtown and Interstate 65. The purchase price for the home was $143,000.
The Fix:
While the property was in an excellent location at an excellent price, the same could not be said for its condition, and the inspection proved it; considerable foundation wear, sagging floor system, dilapidated exterior wall siding, antiquated HVAC and electrical, the works. The repair credit line (RCL) the client needed to rehab the house came in at almost twice the purchase price of the house at $226,000. The professionals at BridgeWell were able to finance over $325,000 for the purchase and renovation of the property.
The Flip:
With funding from BridgeWell Capital secured, the clients were able to begin renovations on a deal that took, from bid to close, under a month. With the renovations completed, the property was appraised having an after repair value (ARV) of $510,000, earning BridgeWell's clients a 20% return on their investment. As well, due to the high-quality rehab work, and the client's efforts to preserve the property's original architecture, the property was recognized by the city's historical society.