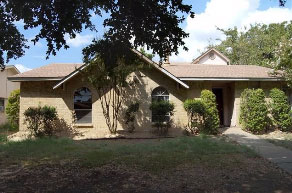 The Find:
On November 1st, BridgeWell Capital was approached by one of its many satisfied repeat clients looking to secure a hard money loan for a 4-bedroom, 3-bath single family home in Carrollton, TX. The neighborhood wherein the 1823 sq. ft, 2-story investment property was located is within walking distance to well-rated elementary schools, parks, and a variety of dining and shopping options that reflect the diversity of the area.
The Fix:
The investment property was originally listed at $160,000 and reduced to $152,000. Our client successfully submitted a cash offer of $141,000 to close the deal. Knowing the property was in need of repair, our client set aside $35,000 of the total $158,000 BridgeWell Fix-2-Flip loan to use as a repair credit line that is paid out in installments as progress points are met. With this particular property, while nothing major was required, the roof, electrical systems, and plumbing were all in need of rehab. The swimming pool, as well, required servicing to maximize the allure of this property.
The Flip:
With the property refurbished and the pool area cleaned, chlorinated, and ready for company the house was appraised at $205,000, placing it, price-wise, right in the middle of the comps in the area. Properly staged and landscaped, this property could be a jewel in the neighborhood's crown. After the purchase price, prepaids, closing costs and rehab, our investor made $13,160 on the deal that BridgeWell Capital financed within 7 days of the investor's original purchase date.